* Some of the items in this section are undergoing design upgrades over the next couple months. (The Spear Point, Short Kukri and San Sibak will see alterations) *                                                               
THE RAVEN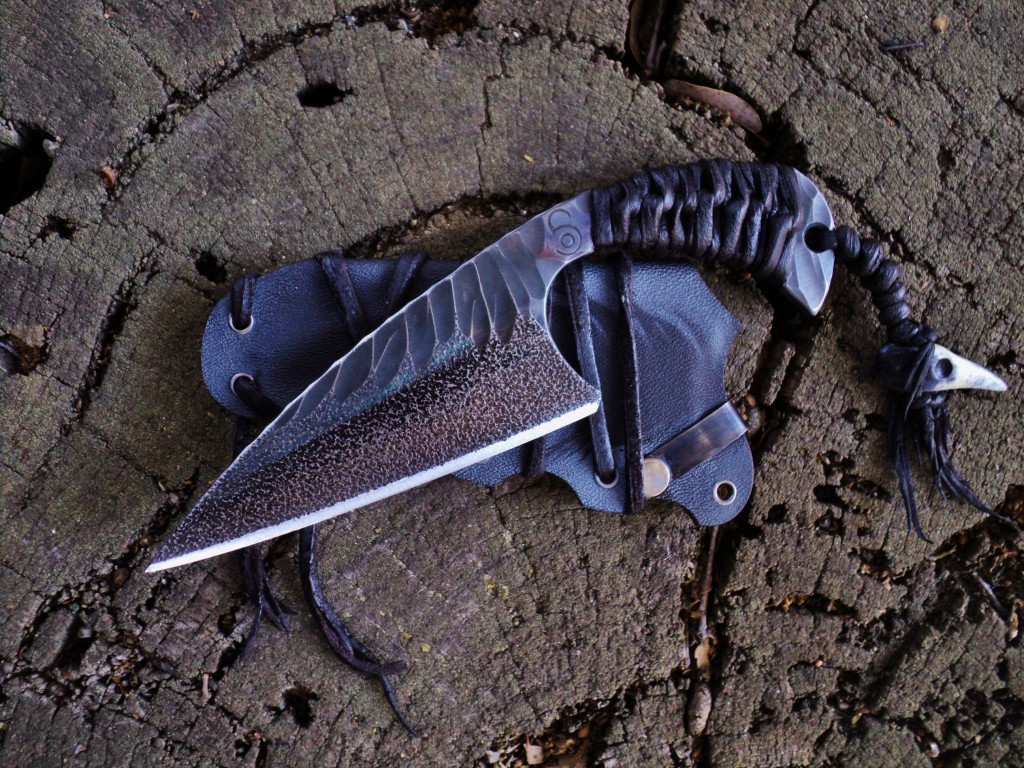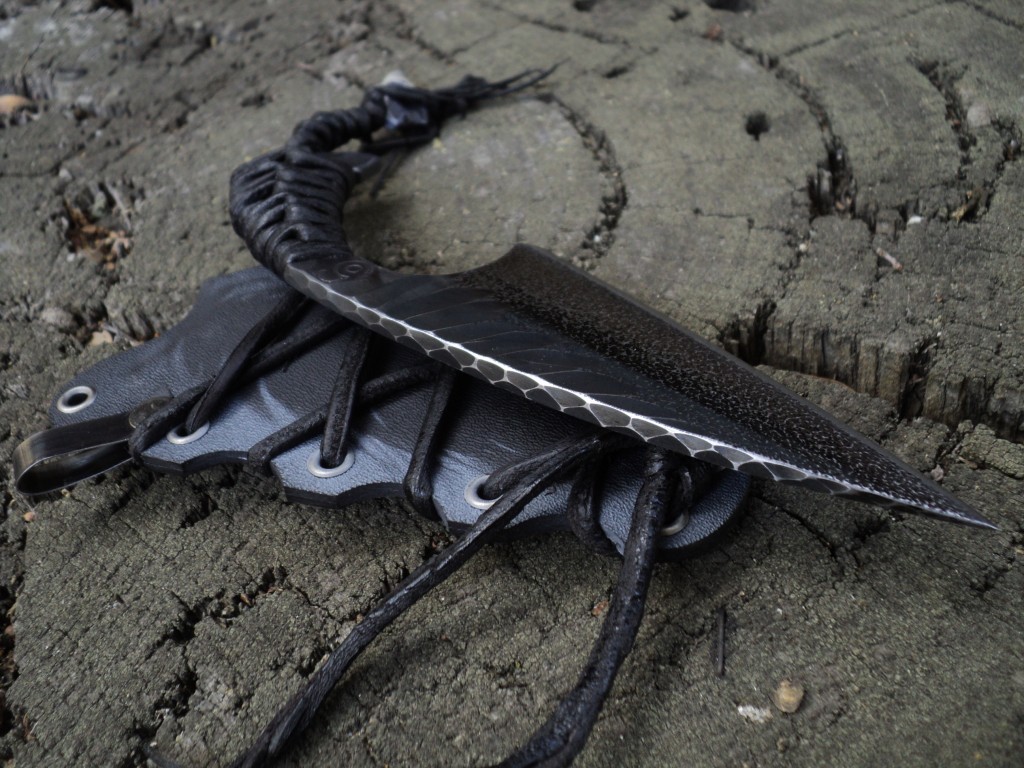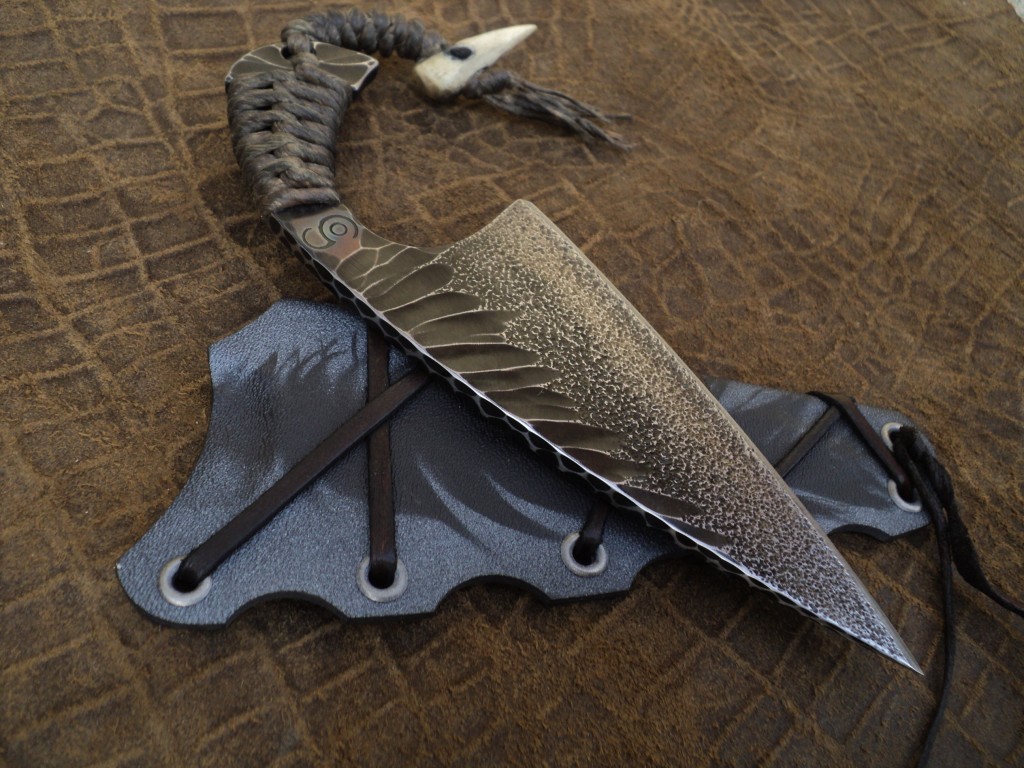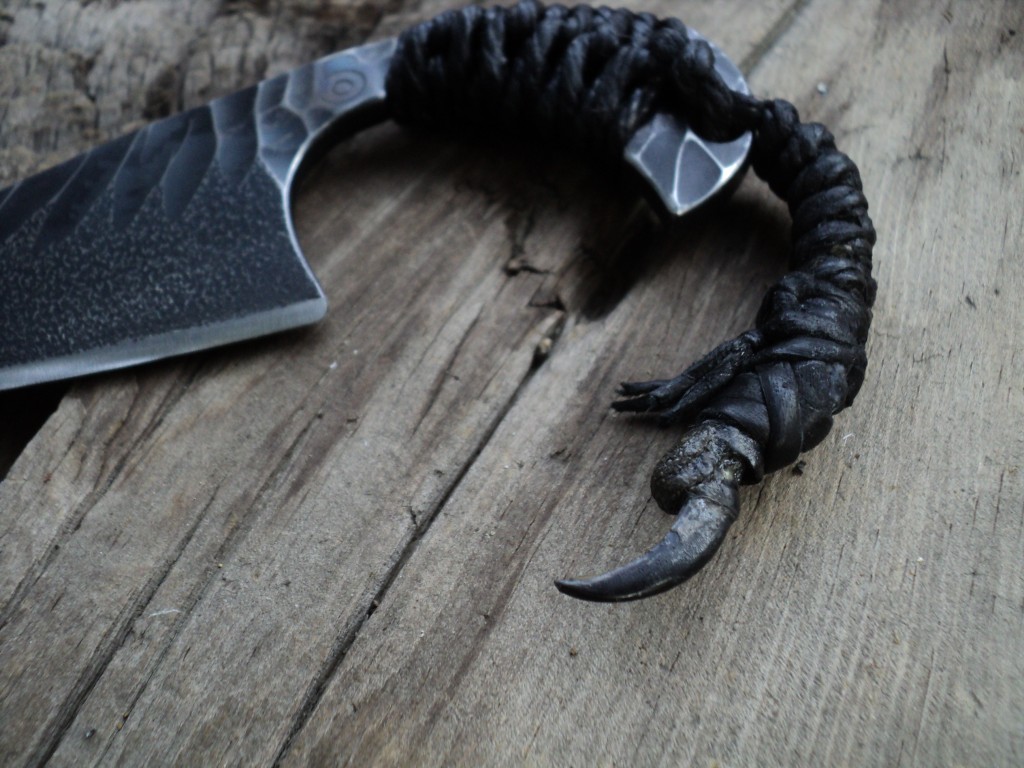 (Yes, that is a raven's talon)
Length: 6.85 inches (blade: 4.15″ / handle:  2.7″)                                                
O1 Tool Steel
"Stone-Age" Texture
Heat Treatment coloration and "Micro-peened" Finish
Hand-made Elk Skin Leather Cord Handle Wrap
Kydex Sheath (mounted horizontally on belt using the cord lacing)
$195 USD

A simple, low-profile cutting tool with a tough, highly useful blade and a scalpel-like tip for those more precise operations. The leather-wrapped, three-finger handle and braided lanyard provide the grip necessary to get the job done.
Belt sheath comes with an integrated safety/retention device consisting of a spring-tempered steel band which pivots open and closed with a flick of the finger.
THE STONE-AGE STRAIGHT RAZOR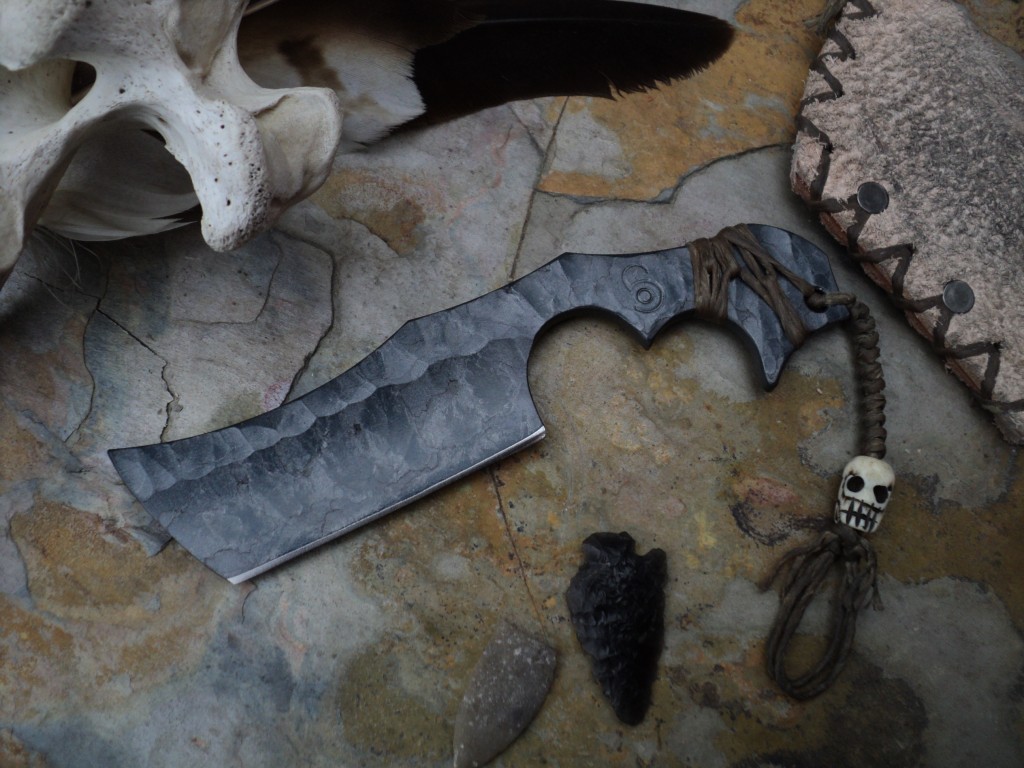 (first conceptual design)
Length: 5.75 inches
Thickness: 1/4 inch
Blade width: 1″- 1″1/8 inch
Full Hollow-ground                                         
O1 Tool Steel                                                          
Multi-tonal KG-Gunkote
Sinew Handle-Wrap
Lanyard with Hanging Loop and Python Vertebrae Beads 
Leather Case
$295 USD +25 for leather strop
Has shaving become boring and monotonous? Are you starting to feel guilty about all those disposable razor cartridges going into the garbage can? Want to feel more like a man? The Stone Age Straight Razor is the answer for you! That tingle of nostalgia you will get while using this amazingly sharp implement to de-whisker your face will bring you back to a simpler time – a time when your food was what you could find or hunt and your tools were what you could make from stone and bone. A time when skill and resourcefulness counted. This was a time when men were men because natural selection would not allow it to be otherwise. Welcome back, man.
Made from optimally hardened tool steel, the hollow-ground Stone Age Straight Razor will hold it's edge through the toughest of facial hair. The multitonal KG Gunkote finish will protect it from water and weather. A leather strop is provided with this razor and a leather "pouch" for storage and travel. Use and sharpening instructions will also be supplied.
The last razor you will ever buy; this one will last your lifetime and possibly your children's as well.
THE WRENCH RAZOR

Length: approx. 7 inches
Blade thickness: approx. 3/16″
Blade width: approx. 7/8″
Full Hollow-ground                                                           

Chrome Vanadium Tool Steel

Patina'd Finish
Hollow-ground: $225 USD
+ 25 USD for leather strop 
Another straight razor choice. In its first life, it was a wrench. Resurrected from the scrap yard, reborn in the forge fire and reconfigured by hammer and anvil, it begins an "after-life" as your faithful shaving tool.
Comes complete with a professionally made leather strop and a storage/travel box or sheath.
See the new "Afterlife Accessories™" section of the web site – a branch of Sage Blades consisting of accessories and tools made entirely of recycled materials.
SK3
Overall Length: 12.25 inches
Thickness: 3/16″ths
O-1 Tool Steel
Differentially Hardened (clay technique)
Edge Hardness: 58 Rockwell
Flat/Slightly Convex Blade Bevel
Hammer-peen'd and "Micro-peen'd"
Heat Treatment Oxide coloration
G-10, Wood, or other Handle Material
Handle-wrapped version is Elk Skin Cord (made by hand)
Braided Elk Skin Cord Lanyard 
Lanyard Bead of various types (pictured: cat vertebrae and elk antler)
Kydex Sheath with Elk Skin Retention Loop and Elk Skin Leg-Tie Cord
$450 USD (cord-wrapped)
$575-625 USD (solid handle)
If you plan to carry only one knife in the wilderness, the SK3 will serve you well and serve you long. This straightforward blade design may seem simplistic at first glance, but with a perfect balance, recurved profile and ergonomic handle shape, it will come alive in your hand. The blade weight puts a good amount of force behind chopping blows while also allowing for very agile handling. The dropped-point profile of the blade has the effect of maximizing useful reach, especially when cutting light, thin branches, etc., that would be pushed away from the end of a more upward-curving blade. The dropped-point tip is a tough design and is also more useful in utility-knife-like cutting jobs.
The SK3 is a very well rounded knife design and will hold it's own over a wide range of uses from bushcraft to battlefield.
SK4
Overall Length: 11.25 inches
Thickness: 1/4 inch
O-1 Tool Steel
Differentially Heat Treated
Edge Hardness: 58 Rockwell
Flat/Slightly Convex Blade Bevel
"Bark" Texture and "Micro-peen'd"
Heat Treatment Oxide Coloration
G-10, Wood or Other Handle Material (pictured: Green G-10)
Handle-Wrapped version is Elk Skin Cord (will be posted soon)
Braided Elk Skin Cord Lanyard
Lanyard Bead of Various Types (pictured: Buffalo Tooth)
Kydex Sheath with Elk Skin Retention Flap and Elk Skin Leg-Tie Cord
$500 USD (cord-wrapped)
$600-700 USD (solid handle)
Cleaver, seax or little axe, whatever you choose to call it, the cutting prowess of this blade will call attention. A heavy-duty quarter inch of differentially hardened tool steel with a polished, straight razor's edge, this one bites hard and deep. As a tool of bushcraft, it keeps the wood chips flying. Terminating in a needle-sharp utility point, the SK4 can also perform aggressively in the cutting of softer materials such as leather or fabric. A well balanced design, this knife is at home in any environment – when finished chopping wood in the wilds, the SK4 can rest comfortably hanging from the kitchen wall and will make short work of whatever comes between it and the cutting board.
THE SPEAR-POINT
Length: 11.75 inches
O1 Tool Steel
"Stone-Age" Texture
Cerakote or KG Gunkote
Kydex, Leather, or Industrial Belt Material Sheath

$450-650 USD

Machined and forged from a solid bar of O1 tool steel, The Spear Point could not be tougher. This design is meant to be carried as a multi-purpose, secondary knife. The Spear Point can perform well in four different roles that the primary, working knife is not designed for. One: it can be mounted on a wood shaft simply by unscrewing the threaded end-cap and inserting the carved-to-shape shaft end. This can be done in under five minutes and easily undone. Two: with a heavy, double-edged blade and sleek, smooth-releasing handle profile, the Spear Point makes a very effective throwing knife. Three: the Spear Point makes a great, well-balanced fighting knife. Four: the hollow handle can also be used to store a small kit of essential survival items.
Additionally, although not made to be a utility/working knife – "batoning" is not recommended since it is double edged – the Spear Point is very solid, properly heat-treated for toughness and edge holding, and, with a broad blade, has great chopping abilities.
THE EDC BOWIE (a Chris Zaccara design/concept)
Length: 7.38 inches (handle version) 7.75 inches (cord wrapped)
O1 Tool Steel
Black KG-Gunkote
Black G10 Handle or Leather-Cord Handle-Wrap
Kydex Sheath
$355 USD with wrap / $485 with handle
The EDC (Every Day Carry) Bowie is primarily a self defense knife. The idea behind the design was to incorporate some of the features of a bowie knife which makes it effective into a small knife that could be carried unobtrusively. This "mini bowie" has a sharp clip point for "back cuts" and a slightly recurved,  weight-forward profile for "snap cuts". It is also designed to function well in both forward and reverse grips. While being highly effective in a self defense role, the EDC will also excel at most utility tasks. For more info on this knife, see the review video by Phil Elmore.
THE SPEAR-POINT KARAMBIT
Length: 8.00 Inches
O1 Tool Steel
Black KG-Gunkote
Black G10 Handle
Kydex Sheath
$515 USD

A pure self defense design. Every feature of this knife is made for high performance in cutting and piercing. Held in a reverse grip with forefinger through the ring, the knife locks solidly into the hand. The forward curve of the karambit puts the blade out where you want it. The geometry and angles of this knife make possible a devastating cut with every motion. Unlike nearly every karambit on the market, this one has a traditional, fully sharpened top edge.  Both the bottom and top edge terminate in a highly effective utility-knife-like point. Most karambits have a claw-like bottom edge which, although very effective for cutting most things, will catch in thick clothing and on contact with bone, abruptly stopping momentum and leaving one open to a counter strike. With perfectly angled, straight edges, the Spear-Point Karambit will glide through softer materials and slide off hard materials keeping all movements fast and fluid. Also, the karambit ring allows the knife to be spun or flicked out, with a loosened grip, adding a precious few inches of reach for certain situations. Lastly, the needle-sharp, tapering tip will easily penetrate the thickest of clothing, including kevlar. For it's size, this could be the most fearsome fighting knife in existence.
THE SHORT KUKRI
Length: 15.25 Inches
O1 Tool Steel
Differentially Heat Treated (Spring Temper and 60 RC Blade Edge)
K-G Gunkote, Cerakote, or "Micro-Peened"

G-10 or Micarta Handle

Leather, Kydex, or Industrial Belt Sheath

$685-875 USD

This knife began with the intention of designing a bowie knife for heavy utility use. That led me to using a recurved blade profile to maximize cutting power and straightening the clip point to add forward weight and tip strength. It wasn't until the knife was half finished that I realized I had unintentionally created a kukri. The fact that I had set out to design a highly effective working knife and ended up with a kukri, says a lot about the wisdom of that cutting tool's form. This "short kukri" packs lots of cutting prowess into a small package for the person who does not have the space for something bigger and more cumbersome. After much field testing, including a visit to the Amazon, I can say this knife easily performs the work of a machete or small axe, while half the length. In addition to this, the differential heat treatment means it will be unbreakable and can hold a hair-shaving edge even after hours of hard use.
THE SAN SIBAK
Length: 17.65 Inches
O1 Tool Steel
Hammer Textured
Differentially Heat Treated (Spring Temper and 60 RC Blade Edge)
Black and Silver KG-Gunkote
Black G10 Handle
Leather Sheath
$700-925 USD

The concept for the San Sibak was to create a perfect fighting bowie. There are three main features of bowie knifes that make them notoriously effective in knife fighting: reach, weight, and a sharp clip point. I set out to maximize these features. The San Sibak may not look entirely like a bowie, but placed in the hands of a practitioner of bowie knife fighting, looks will be quickly set aside. At just over 12 inches, the blade of this knife is longer than that of nearly any bowie out there. The slender shape provides enough blade weight to enable serious chopping power, while keeping it light enough for highly dexterous handling. The razor-sharp top edge will perform devastating "back cuts". The forward curve of the San Sibak creates incredible speed and power in chopping, while the texturized, highly ergonomic handle will make it seem glued to your hand. While being primarily a fighting knife, the differentially heat treated San Sibak will also perform very well in a utility role when necessary.
CKM4
Length: 14.0 inches
O1 Tool Steel
Differentially Heat Treated
KG-Gunkote or Patina'd
G-10, Lucite, or Ivory Micarta Handle

Leather "blade protector" provided
$525 USD

The CKM4 is an all purpose chef's knife. The long, straight spine of the knife is perfect for pushing chopped materials off of a cutting board. The scalloped texturing of the blade reduces unnecessary weight and minimizes surface-tension sticking of materials to the sides of the knife during dicing. Heat treated to optimal hardness for edge retention and toughness, an occasional leather stropping should be all that is required to keep it shaving sharp.
(On a side note, the first model has been hard at work in the kitchen for over three months [on a bamboo cutting board] with no honing or stropping and still easily shaves arm hair)
CKM5
 Length: 11.65 inches
O1 Tool Steel
Differentially Heat Treated
K-G Gunkote or Patina'd 
G-10, Lucite or Ivory Micarta Handle
Leather "blade protector" provided
$425 USD
All the features that make the larger CKM4 a great performer on the cutting board, but in a smaller, lighter package. 
SAGE BLADES TOMAHAWK
Length: Head 6″ and 7/8′s"; Edge 3″ and 3/4′s"; Handle 18″ 
1080 High-Carbon Tool Steel
Hammer-peened and "Micro-peened" 
Scorched Hickory Handle
Elk and Deer Skin Handle Wrap
Kydex and Leather Sheath with Adjustable Elk Skin Shoulder/Waist Belt
$650 USD
Another great bush-tool option. As much chopping power as a full-size kukri in a lighter package. Although weighing no more than a bowie knife, the handle length imparts a high velocity to your swing with all of the cutting tool's weight behind the cutting edge. The tomahawk is made to chop and does it very well, but it can also be used like a smaller knife by holding it up near the head for jobs requiring more controlled cutting.
All Sage Blades knives are delivered with a finely polished, straight-razor sharp blade. You will not find sharper knives anywhere. Also, as a result of high quality materials and skillfully done heat treatments, these knives will retain a shaving-sharp edge through a surprising amount of use and usually will require only an occasional leather stropping to remain shaving-sharp. All questions, requests or orders are welcome and will be answered promptly. Email at sageblades@gmail.com
*At this time (2/2/2013) there is a waiting list of at least two months for most items. It may be possible to expedite an order by adding a 35% surcharge, if your budget outweighs your patience;)