---
Welcome to Afterlife Accessories, a division of Sage Blades dedicated to providing various useful products made from recycled, re-purposed, or found materials and items. Still in the beginning stages, more designs will be regularly added to this collection. The assortment will include some "one offs" while other items are produced in limited numbers. Most designs will be repeatable if not currently available.
*Due to a long waiting list, all orders will be temporarily unavailable. If a particular item is in stock, there will be a notation stating that it is "currently available"*
---
---
New Items Sold on the site, nousdefionsusa.com 
*Visit nousdefionsusa.com for pricing and availability of the above items
---
---
RAILROAD SPIKE KNIVES
Since the first rail lines were laid in the 1800s, blacksmiths and Native Americans have used railroad spikes to make knives. Forged and twisted from the stout, square, high-carbon steel of these possibly hundred-plus year old spikes, comes a knife that will last another hundred years.
WRENCH KNIVES
Same principle as the wrench razors, but bigger and with a wider range of uses.
FILE KNIVES
Forged and/or ground from old files, these knives are differentially heat treated and available in an array of different finishes and styles.
ICE SCRAPER KNIFE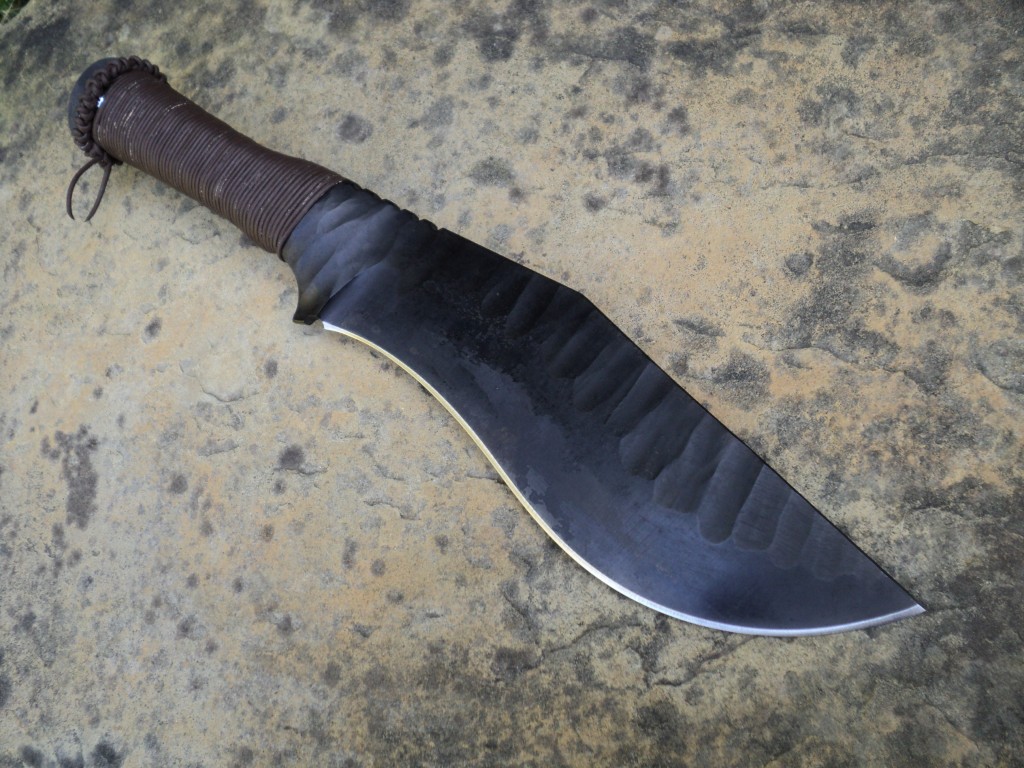 Forged from the high carbon blade of an ice scraper, this heavy-duty knife comes with an integrated hollow handle wrapped with leather cord.
DRIFT PUNCH KNIFE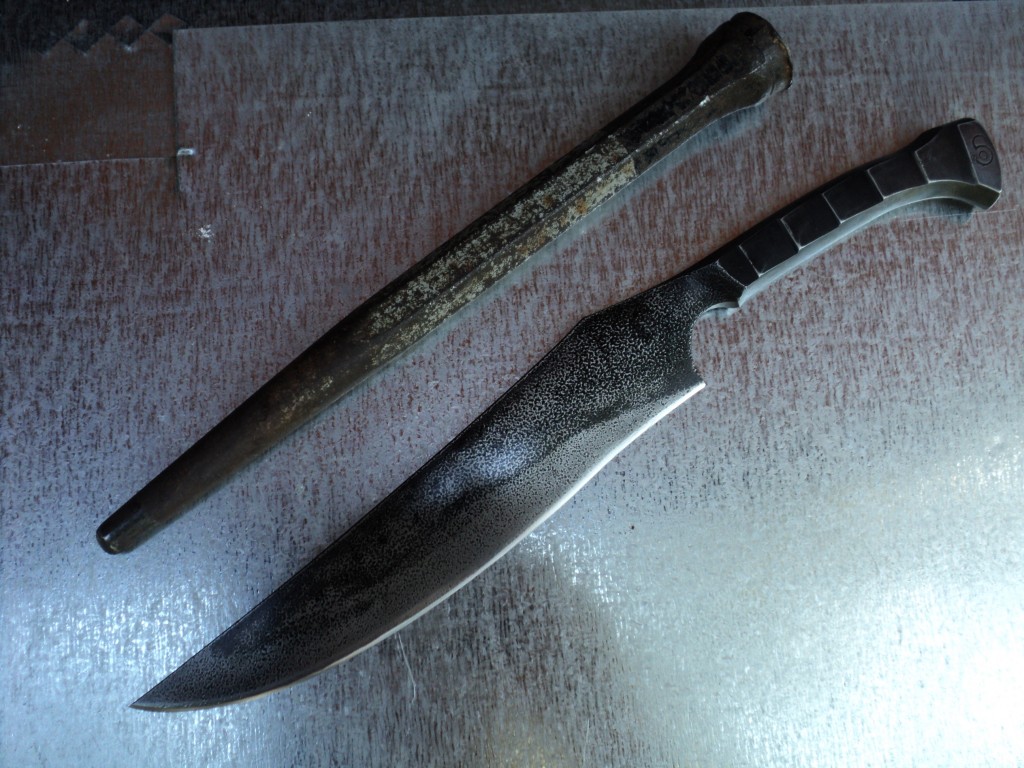 Forged from a large, high-carbon, Dasco "drift punch", this solid knife is 13 inches of oil-hardened tool steel.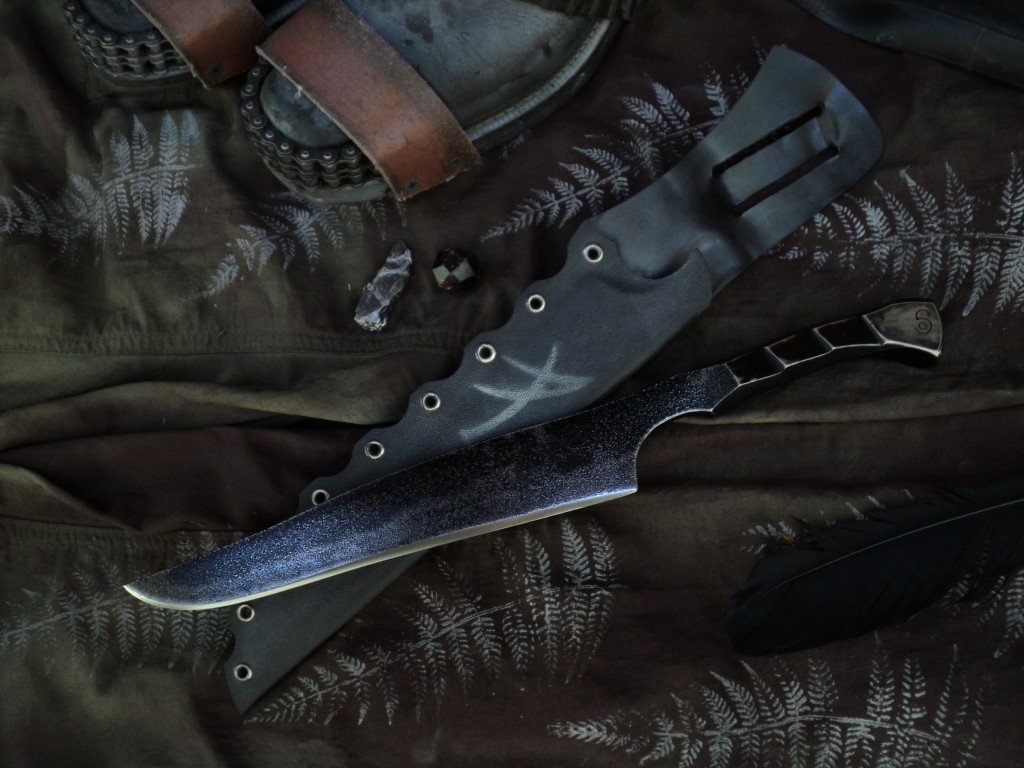 Another drift punch knife. This one is 13.65 inches. Note the differential hardening line done with the clay coating technique.
THE KORVUS KUKRI
A custom piece for Mark Morgan based on the finish and style of the Raven knife. Forged from a 3/8s, 5160 high-carbon truck spring. The end of the handle is a combination bottle and can opener. Most of the leather used was deer and elk skin remnants. Beads made from bone and antler.
MACHINE BELT DOG COLLARS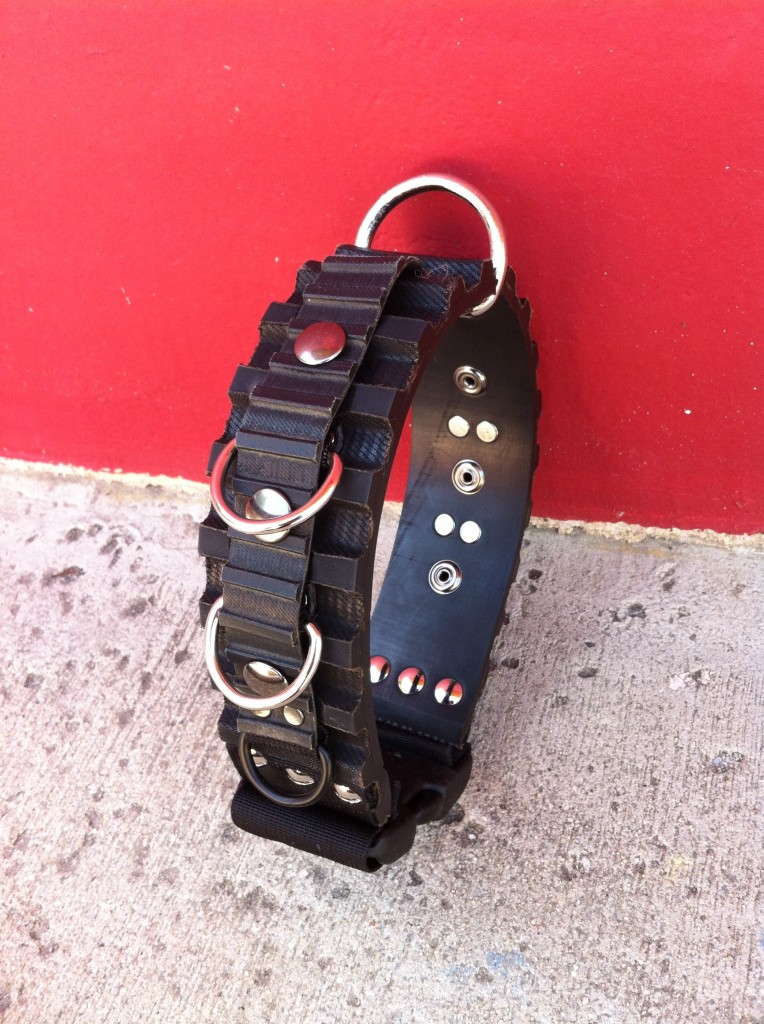 Made from various types of reclaimed machinery belts, these rugged collars are the perfect accessory for the larger dog that will not be satisfied with the usual leather, studs and spikes. Available in a broad range of styles from tactical, with gear mounting capability, to practical, but tough.
MACHINE BELT WATCH BAND
Also made from reclaimed belt material with a closure toggle of sculpted electrical insulator material, this durable, weather resistant watch band may be just the post apocalyptic, Mad Max look you're after.
LEATHER WATCH BAND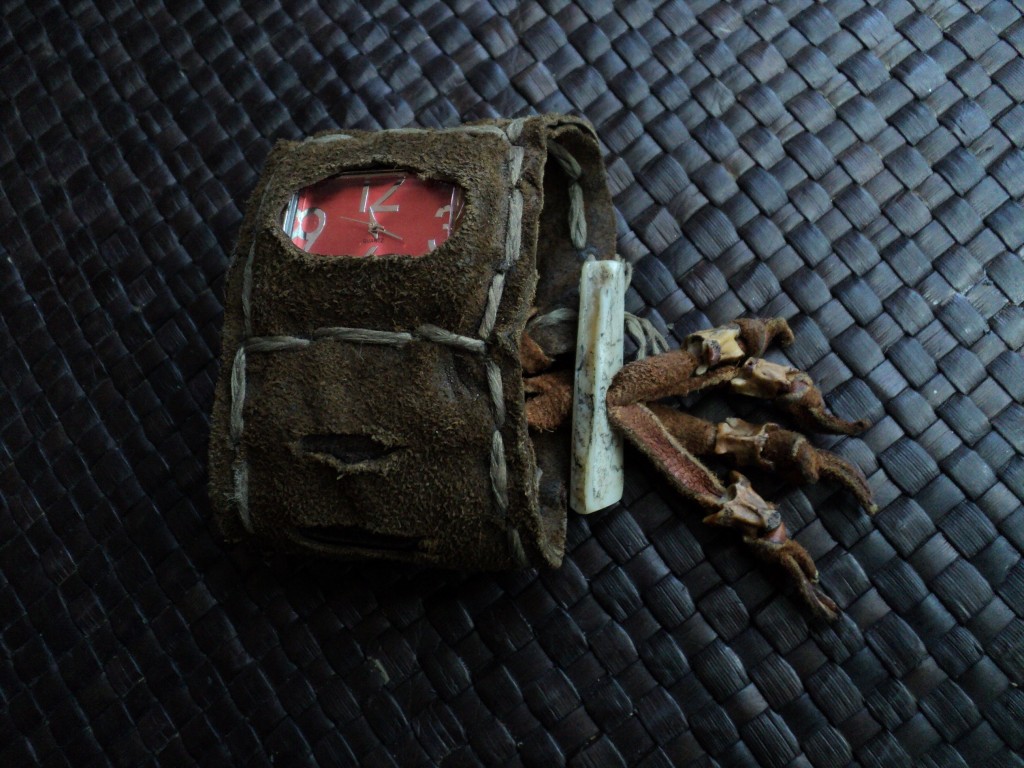 This unique watch band is made from layers of scrap leather stitched together with sinew. The closure is made from bone, deer skin, and python vertebrae.
METAL ARM BAND/BRACELET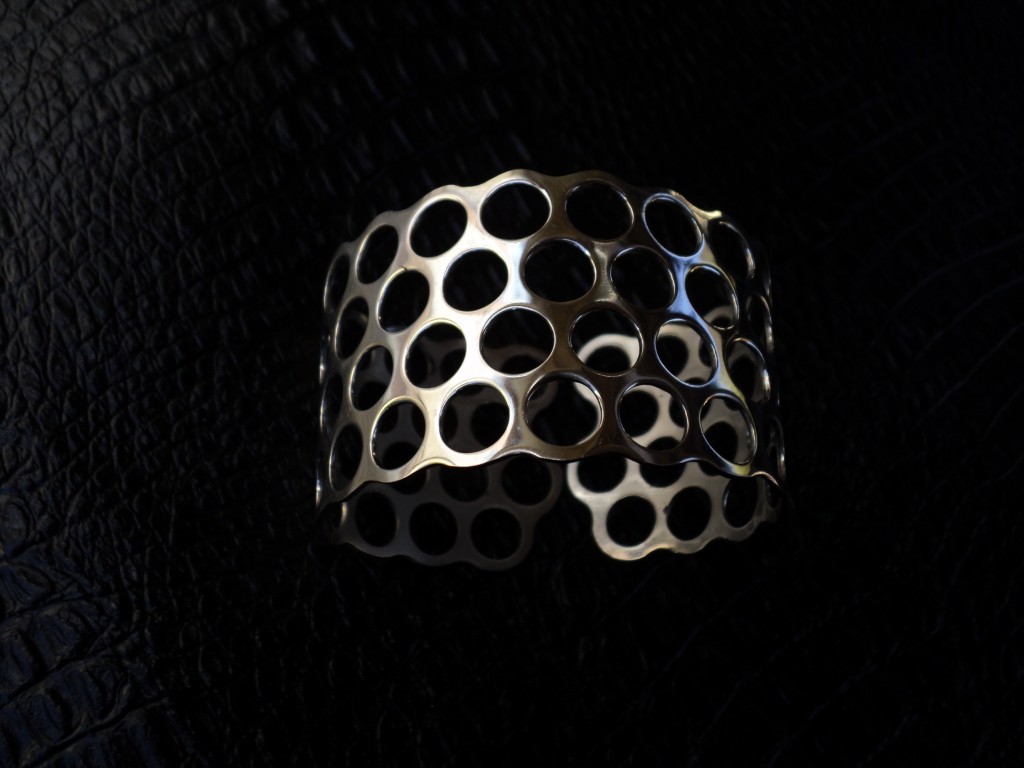 Available in many styles and metal types. More designs to come.
iPHONE CASE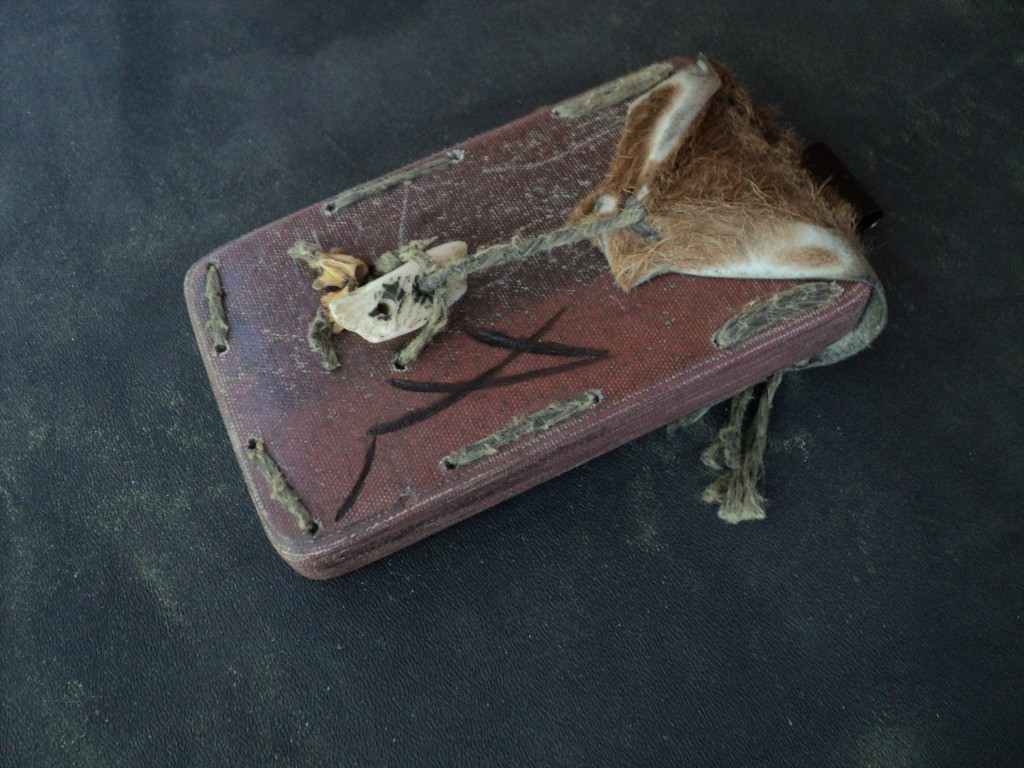 Made from old conveyor belt material, this protective case is layered, laminated, and stitched together with sinew. The bone toggle holds the reclaimed shoemaker's animal skin flap tightly closed.
ANIMAL SKIN BAGS
These rustic handbags are made from the leftover scrap skins from a shoemaker's shop. Stitching is done with authentic sinew and the closure toggles are of bone or knapped stone.
MACHINERY PART MEDALLION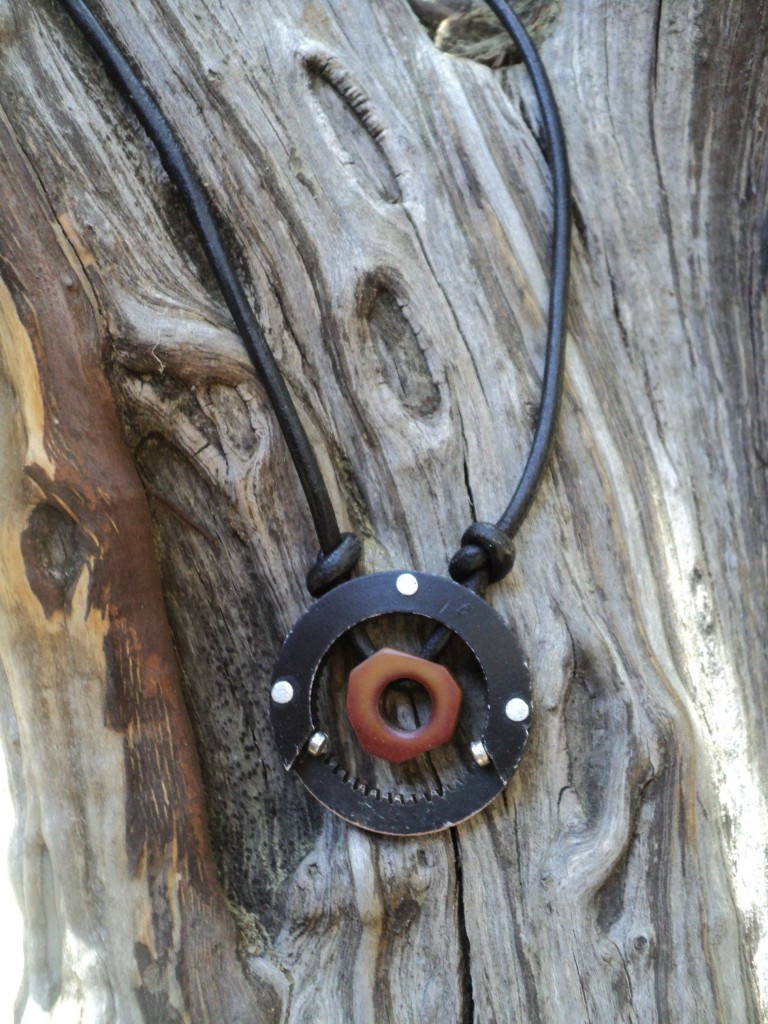 Made from a found gear and a shaped piece of electrical insulating material.
LEATHER BRACELETS
Made from leather and animal skin remnant pieces. The closures are button toggles made of bone and sinew, metal snaps, or other materials.
THE SAGE BLADES FLINT AND STEEL KIT
A custom flint and steel fire lighting kit made for Ole Andre of Norway. Elk skin belt bag with elk antler closures, sewn with deer skin and sinew. Smaller bags made of water resistant deer skin with draw string closures. Kit includes a forged and hardened striker steel, quartz and flint, a bundle of fine tinder, and a metal box containing char cloth and charred manila rope – all the necessary fire making items for a very extended stay in the wilderness.
Current price: 350 USD
FLINT AND STEEL STRIKER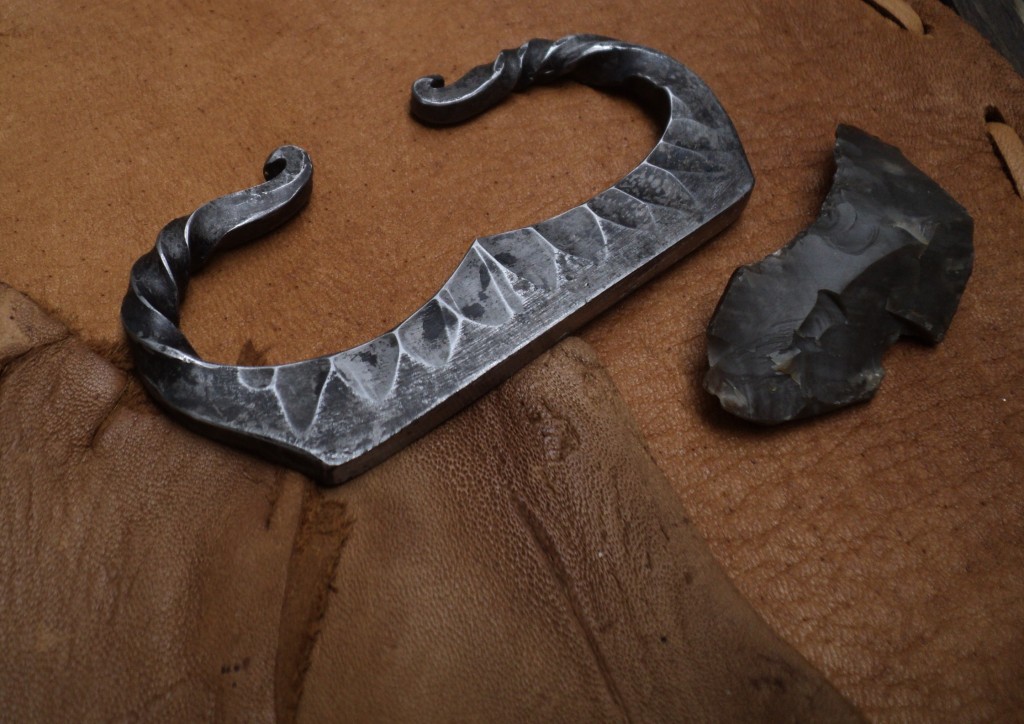 Forged from an old file and water hardened, this steel will give you bright sparks for years of fire lighting.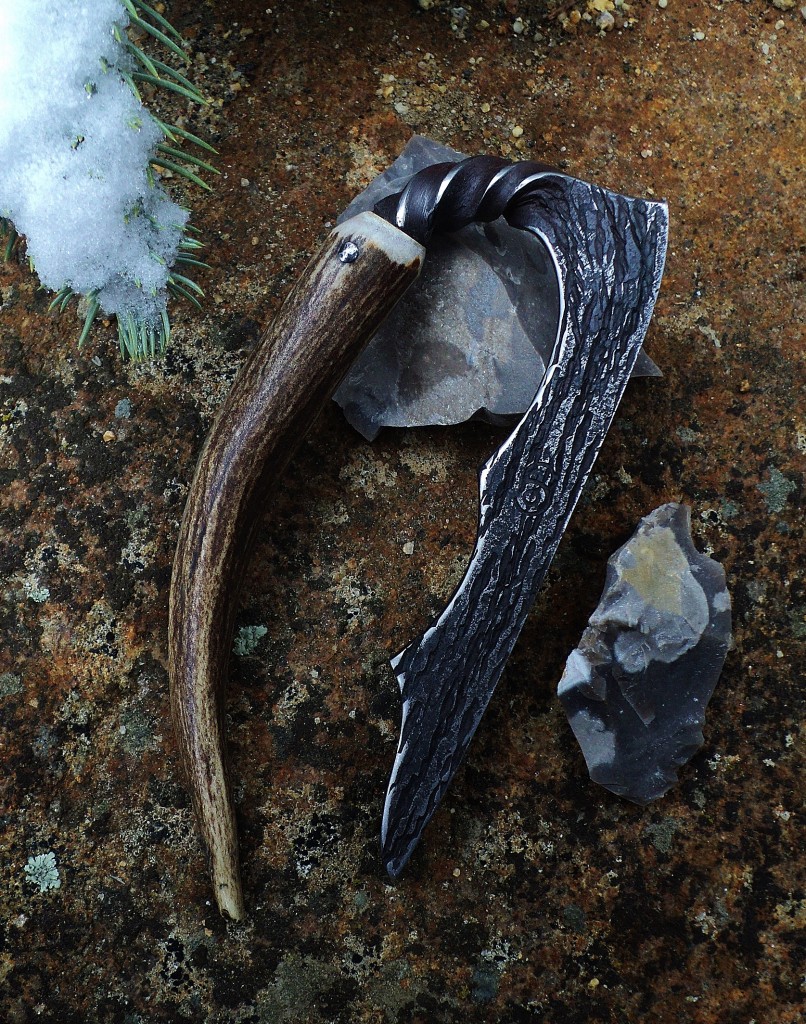 A custom striker for Ole of Norway. Made for home use, it's a substantial six inches in length; forged from 3/8″ leaf spring.
FLINT AND STEEL PENDANTS
Forged from high-carbon tool steel and fully hardened, these little strikers will last for years. The pendant is conveniently mounted on a leather cord with a toggle clasp. Paired with a separately hung striker stone of flint, quartz or other hard crystal, the two items can be moved apart and struck together to generate sparks for fire lighting. All pendants are tested and work well. With some knowledge of technique and materials to use – and a little practice – one can use this pendant to ignite a fire the old-fashion way.
~Many more designs to come!